At work and it's so slow! I hope they'll let us leave early today.
Anyway, I did manage to take my first belly picture this morning for this pregnancy. I should have started sooner but oh well too late.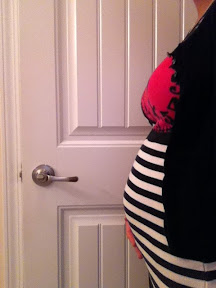 I wore my maternity pants for the first time too this morning. I'll be needing more clothes soon!
Noah's mom and our nieces are on the road heading down here right now. They should be arriving in about 4-5 hours. I'm not sure what we have planned. I do want to see fireworks so we might head downtown on Monday. The beach may be very hectic with traffic going to and from tybee so I'd like to avoid that at all costs. I guess we'll figure it out once everyone gets here.
Have a safe holiday everyone!