I will never own a minivan. That what I said. That's what a lot of people say. People that don't have kids. That all changed for us this weekend.
Noah has been trying to convince me for months that we need a van. I caved in this weekend.
Truthfully, it is more practical. If we wanted to travel to Virginia we wouldn't all fit in one car right now, not with two dogs, patty, Ava, Noah, and myself, and soon another car seat.
An SUV would be nice but it still wouldn't be as roomy as a minivan and they are more costly too.
We scored at the volkswagen dealership. The van we chose was not only in our price range but it offered most everything we were looking for: double DVR systems that can play two different movies (this will be our life saver on road trips), rear camera, Bluetooth, 30G hard-drive to store pictures and music on our touch-screen dash, leather seats... It was an easy choice.
So I guess there are soccer games, recitals, and car pools in our future.
lol, I still can't believe it. I also can't believe how stoked Noah is to be driving it. He doesn't look like the guy to be excited about a minivan, but he loves the newness of it right now I guess.
I wonder what's next on this journey of parenthood :)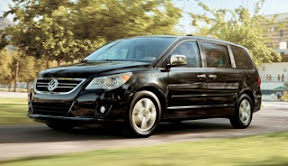 Minivan = Megafun!